You just received your new tattoo and there can be so many recommendations for aftercare. But, the most important thing to remember is to listen to your tattoo artist. Most problems arise when a client doesn't follow the aftercare instructions they were given. One thing to remember is that everyone has different types of skin, allergies, and possible reactions. Everyone heals differently!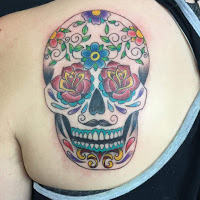 1-Pay attention to what your tattoo artist tells you to do, and follow the exact instructions. If you change up the aftercare, the tattoo artist is no longer liable for what can happen. It is your responsibility to take care of your tattoo.
2-Don't wrap your tattoo again, unless you are instructed to do so by your tattoo artist. It is extremely important to keep your tattoo clean after this protection has been removed. Your new tattoo is just like any open sore or injury. Keep your hands clean when handling the aftercare of your tattoo.
3-It is common for a new tattoo to be slightly inflamed, sensitive, and red. Most people will have some irritation a day or two after. If these symptoms worsen or last longer than 3-4 days, call you tattoo artist.
4-Your new tattoo will weep the first couple of days, this is normal. This isn't an indication that your tattoo is coming off or being affected negatively at all. This is your body's natural healing process.
5-Keep your tattoo slightly moist. If the tattoo dries out it can lead to a thick scab formation & this isn't good. This can cause the healing process to slow down, and can harm the tattoo. Your tattoo artist should advise you on a cream or ointment to use. Remember to follow your tattoo artist's instructions.
6-Within a couple of days to a week, a thin layer of skin will start to peel or flake away from the tattoo. This is also normal, don't scratch or peel the skin away from the tattoo. It even may itch, but don't scratch the area. It is still delicate and you can do damage. If it itches, lightly pat or tap with a clean paper towel.
7-Don't soak your tattoo for at least two weeks. No bathing, swimming, or sitting in a sauna. Showering is fine, and can be a great and easy way to clean your tattoo also. The recommended time can vary depending on your tattoo artist's recommendations.
8-Don't expose the tattoo to tanning beds or direct sunlight for at least two weeks. UV rays will damage the skin and affect the color of the tattoo. After the tattoo is healed you should use the highest UV protection sunscreen.
9-A tattoo may take 1-3 weeks to heal depending on your skin type and the tattoo itself. If you get a rash, or any unusual signs on or around the tattoo, contact your tattoo artist immediately.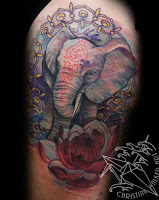 10-Avoid working out. Tattoos that cover big areas or near joints, may take longer to heal if it is moved too much. Intense workouts may cause the skin to break or become irritated. This will cause the healing time to be longer.
11-Always ask for help when you aren't sure what to do or if you have any questions about your tattoo.
If you have any questions about the tattoo you recently received from Lucky Bamboo Tattoo, call our studio at 801-497-9700!