Have you ever seen a Hannya mask? Many people get them tattooed, but few actually look into the history behind them.
The Hannya mask is a Japanese ritual mask used in Noh Theater, representing the soul of a woman who has become a demon due to obsession or jealousy. It possesses two sharp bull-like horns, glaring eyes, and a leering mouth split from ear to ear.
The Hannya mask is said to be dangerous and demonic, but also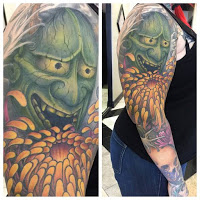 sorrowful and tormented displaying the complexity of human emotions. When tilted in different angles the mask will show this variety of emotions that it is meant to represent.
When the actor looks straight forward the mask would look scary or angry, as to where when the mask is tilted down it would appear as though it was crying or full of sorrow.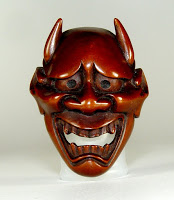 Traditional Hannya masks used in plays were hand carved out of wood, and the oldest one dates back to 1558! Different colors/complexions of the masks represent different things.
If the mask was white or had a light complexion it would represent a woman of high-class. The skin is still white, expressing the jealousy of a noble woman.  A red mask can represent a woman of lower-class. The red Hannya would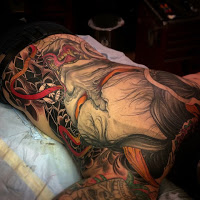 be considered half way to complete jealousy-driven insanity.
The deepest red or black mask would represent a woman who has gone completely insane and has converted into a demon.
It is said that a woman will transform into the Hannya w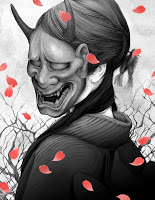 hen jealous or obsessed, but once a woman turns into the deepest red or black Hannya she will be unable to return to her human form.