IT'S IMPORTANT TO FOLLOW TATTOO AFTERCARE ADVICE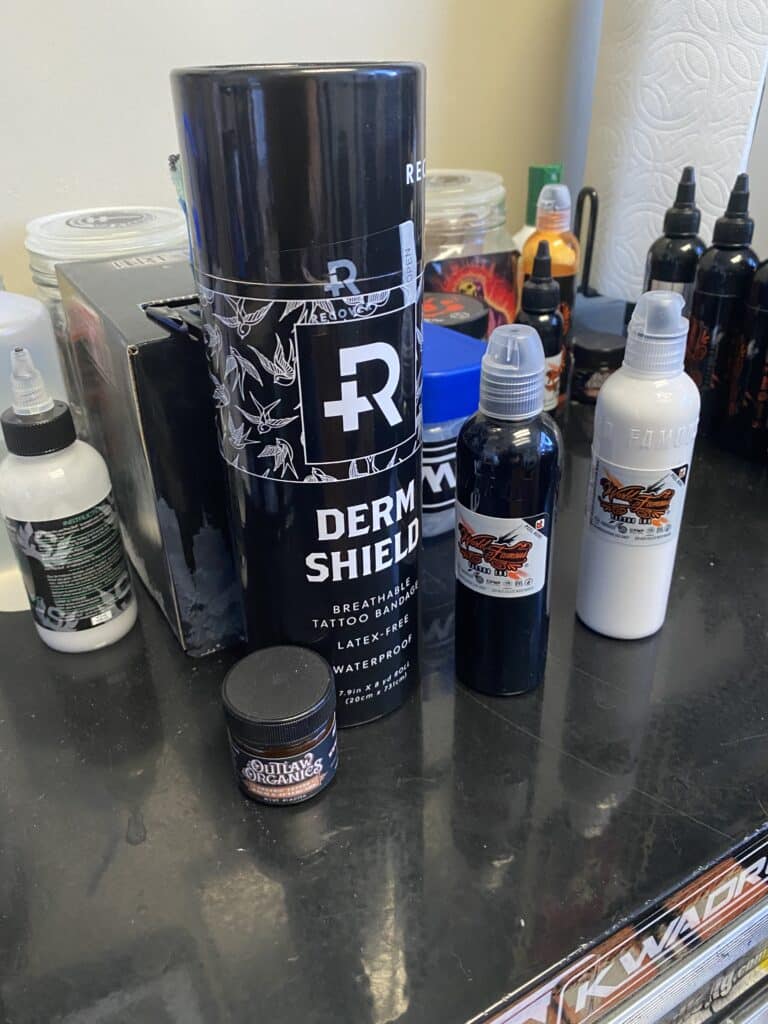 Many people, both new to tattoos and seasoned vets, don't know really what you should do and not do regarding the aftercare of your fresh tattoo. Proper care for your tattoo is vital to the healing process and to ensure that your tattoo comes out as you want it to. Improper care can lead to infection and scarring.
WHAT YOU SHOULD DO
Listen to the tattoo aftercare advice of your artist.
Use the "second skin" bandages provided to you by your artist and use them exactly as instructed and in the time frame discussed. You will have the bandages on for a total of five days. This is key tattoo aftercare.
When cleaning your tattoo, and in between bandages, use warm water with fragrance-free soap, and then gently pat the area dry with a clean cloth.
After you are no longer using the "second skin" bandages, and when the skin is dry, use whatever ointments or lotions your artist has recommended.
Stay hydrated, it keeps your skin healthy and helps your skin retain elasticity.
If you are going to be in the sun, and your tattoo has healed enough that you are no longer scabbed or the are is no longer 'weeping' fluids, use a non-nano particle zinc oxide sunblock (fragrance and petroleum free).
WHAT YOU SHOULD NOT DO
Don't use petroleum based lotions.
Don't use lotions or ointments with fragrance added.
Don't pick any scabs that may form, it will cause scarring and possible loss of ink pigments.
Despite the probability of the tattooed area to get itchy, do not scratch it. Relieve can come from a gentle lotion, cool water, etc. Avoid scratching.
Don't wear clothing that's going to be rubbing against your healing tattoo. You will cause irritation, which could lead to infection and increased scabbing.
Don't expose your tattoo to prolonged sunlight, particularly during the healing process.
Don't go swimming with a tattoo less than 2 weeks old.
Don't get any touch-ups on the freshly tattooed area until fully healed. Further irritating skin that is already irritated will likely cause complications.
No strenuous activity. Sweating too much can cause problems, make you bleed longer and increase the healing time. Take it easy for a bit.
It's key to listen to the advice of your artist for proper tattoo aftercare. Don't be afraid to ask any questions from your artist. Knowledge is a good thing, and your artist is probably the best source to talk to regarding the aftercare of your tattoo, and they are happy to help you in that regard.