Outlaw Organics Tattoo Balm was created by Lucky Bamboo Tattoo Owner Jared Preslar, using the finest organic ingredients. We start with a proprietary blend of botanicals infused in our special blend of oils (coconut oil, sunflower oil, and calendula oil to name a few) used while healing and to moisturize your tattoo. It is then carefully mixed in a base of fruit and nut butters. (Shea butter, mango butter, and cocoa butter), and skin enhancing essential oils that were masterfully crafted to achieve the most comfortable experience during and after your tattoo session.
For during the tattoo: Our balm is great as a glide, soothing to tattooed skin, helps with swelling and also pain with the natural analgesic properties.
For after the tattoo: Our aftercare will help with discomfort, repair skin cells, and decrease inflammation and swelling.
Tattoo Artist Tip: Apply Outlaw Organics after completion of the tattoo, cover with a temporary covering for 15 minutes, for swelling and redness to go down for photos.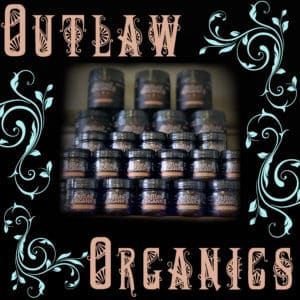 Full Ingredient List and properties
Shea Butter: Moisturizes, aids in the skin's natural collagen production and contains oleic, stearic, palmitic, and linolenic acids that  protect, nourish, and help tissue cell regeneration.
Cocoa Butter: A deep moisturizer: Cocoa butter is high in fatty acids and hydrates the skin deeply, a sensitive-skin healer: Cocoa butter has been noted to help skin irritations such as eczema and dermatitis.
Mango Butter: Mango butter softens the skin, treats dermatitis, sunburn, and eczema. It also protects the skin from UV rays. There are other impressive benefits like preventing premature again, healing wounds, and strengthening the immune system
Fractionated Coconut Oil: This helps all the ingredients to quickly be absorbed. Due to the way it is processed, it has a high concentration of Capric acid and Caprylic acid, which gives it an amazing amount of antioxidant and disinfection properties.
Sunflower Oil: Sunflower oil helps retain moisture; it is high in Vitamins E, A, C, and D. The vitamins, fatty acids, and antioxidants help regenerate skin.
Castor Oil: Caster Oil will improve the skin by healing the damaged tissue. Ricinoleic acid, the main ingredient in castor oil has antiseptic abilities, It helps increase cell turnover, promoting new skin layers, as well as providing the skin with nourishment for healing. It will also relieve pain and with its analgesic, pain relieving properties.
Calendula Flowers: Enhances healing; The antiseptic and anti-inflammatory activity of this flower can promote fast healing of minor burns, wounds, and injuries. Also promotes call regeneration.
Rosemary Leaves: Rosemary oil cleanses the skin without causing dryness and will help prevent the build-up of bad bacteria on your skin. It is an excellent wound treatment. As research has shown, rosemary has antioxidant, anti-inflammatory, and antimicrobial properties.
Green Tea Leaves: Green tea oil penetrates quickly and deep into the inner layers of the skin, providing hydration without feeling oily. Research conducted within a hospital concluded that the polyphenlos in green tea were effective in killing bacteria and fungus.
Vitamin E: Provides necessary moisture, as well as antioxidants for intense, quick, and effective healing.
Lavender: Lavender is great for the skin. Some of it's skin benefits include being antiseptic and anti-fungal which helps to reduce scarring and speeds healing. It is also an anti-inflammatory and circulatory stimulant.
Clove: A natural antibacterial agent it has the ability to kill harmful bacteria and microorganisms. It has the same numbing effect as topical agents used in dentistry.
Peppermint: One of the best known benefits of peppermint is it's ability to sooth and cool irritation.