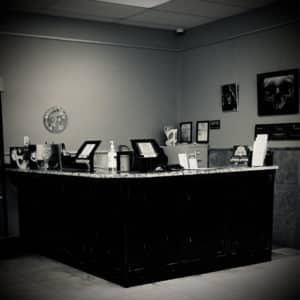 Each of our artists are dedicated to every tattoo. From the drawing to executing the tattoo. We know their time is just as valuable as our client's time. This is why Lucky Bamboo Tattoo has a dedicated front staff to handle all of the inquiries that come our way. The days of artists starting and stopping multiple times during your session are over. With help from the front, our artists can focus on tattooing throughout our day. If you would like to meet with an artist, we can make that happen! We can schedule you for a consultation. These take place at 5:30 in the evening. This is the perfect time as our tattooing sessions have come to an end and your artist can focus on you. They are 30 minutes and are free of charge. Keep in mind that during your consult, you will discuss a quote for time. How much time is needed will determine what your artist design fee will be, it will tell us the overall cost of the tattoo, and it also gives us insight on specific availability. So yes they are free but it is smart to come prepared to place your artist design fee.
What if you don't require a consultation and know exactly what you want? We can help with that too. We will go over all the details and discuss them with your artist. They will give a quote for time and we will communicate that to you. What details might you need? It is important to know what the imagery is. What size you would like it (in inches is best, comparison to an everyday universal item is also helpful). Decide where you would like the tattoo on your body, keep in mind different locations may take different amounts of time. Are you wanting this tattoo to be black and grey? Full Color? Or maybe a mix of the two, black and grey with color accents? Let us know.  And also think about the art style. If you're unfamiliar with tattoo terminology, it can be very helpful to get to know the artist and what their style typically looks like. Asking an artist to do a tattoo in their unique style will put a smile on their face!
And of course, if you have any questions please feel free to talk with one of the staff members. They will answer all of your questions and are eager to help. Please do not hesitate to call, or stop by.