Do you have any tattoos that you regret getting? Research shows that about 15% of tattooed people in the US have a tattoo that they regret. And with there being 21,000 + tattoo studios in the United States and little to no regulations in the tattoo industry it's no surprise!
The good news is you have options! We have just become an approved center for an awesome tattoo removal system called Tatt2Away. Tatt2Away offers non-laser tattoo removal. With non-laser removal, you benefit in many ways

The traditional laser removal method pushes the pigment into your body, rather than pulling it out. With Tatt2Away, the pigment is actually pulled out of the skin in the form of a scab. Tatt2Away is also a colorblind removal, meaning that it removes all colors the same. Tatt2Away is also typically cheaper than traditional laser removal as you need a lot less sittings to get rid of that regret tattoo!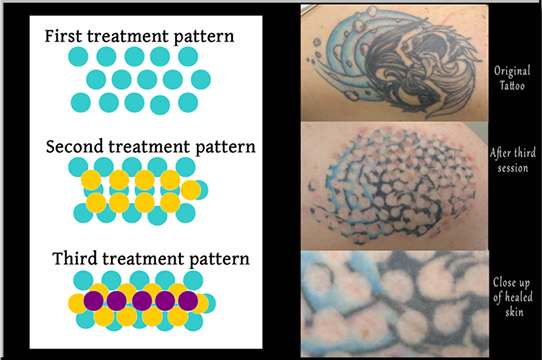 Laser removal can not only eat a hole in your wallet, but is very painful. Tatt2Away is similar to getting a tattoo, so it has the same pain/discomfort as getting the tattoo itself. Whether you want to fully remove a tattoo, or partially remove a tattoo so that you can cover it with something awesome, Tatt2Away has got you covered!
Stop living your life with a tattoo that makes you cringe. Stop worrying about that cover-up you want to do that is going to take up WAY more space than you ever anticipated. Start with Tatt2Away!
Call us at 801-497-9700 to schedule your free tattoo removal consultation